Aquarium to Open New Photography Exhibit
"Beauty and the Birds" is a collection of photos by Susan and Steve Dimock.
---

Newport, Oregon - The Oregon Coast Aquarium will open a new photography exhibit in its Passages of the Deep Gallery July 1. The photographers, Susan and Steve Dimock, are Bandon residents who love nature and the Aquarium. Their work features Oregon coast landscapes and birds, including Aquarium puffins.

The Aquarium uses the gallery space within the Passages of the Deep exhibit to highlight artwork that shows off the beauty and complexity of the natural environment of the Oregon coast.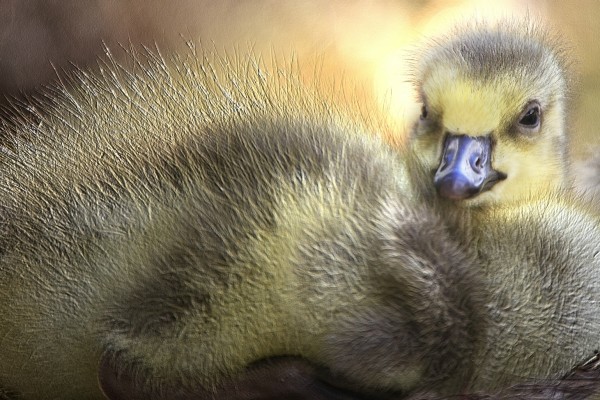 A gosling, part of a new photography exhibit by photographers Susan and Steve Dimock opening in the Oregon Coast Aquarium's Passages of the Deep Gallery July 1. Photo by Susan Dimock.

The Aquarium became aware of the Dimocks' work while Kerry Carlin Morgan, Aquarium Director of Education, was visiting South Slough National Estuarine Research Reserve for a meeting. "It was some of the most stunning bird photography I had ever seen," said Morgan. "I was particularly intrigued by the puffins, which I know are hard to get close to on the coast. Much to my delight, I discovered they were Aquarium puffins!"

The Dimocks, a husband-wife team, began their parallel careers as photographers when Steve Dimock, gave Susan a digital camera. A licensed clinical social worker, Susan Dimock has a private practice in Bandon, where she enjoys integrating the concepts of creative passion and being present into both her counseling and her Oregon Coast photography. "In my life and in my work as a psychotherapist, I find that nature has the capacity to instill hope within the human spirit. I often refer to Emily Dikinson's quote: 'Hope is the thing with feathers. That perches in our soul.' Sharing my work is a way for me to express hope within myself and to those I love as well and those I work with."

Steve Dimock began photography as a young boy, when his father sent him outdoors with a Mamiyaflex twin lens camera. When he returned, his father would take him into the dark room to see what images he had captured. "I was raised with a camera in my hand. Now I find that it seems I can't not take a photo, it is part of who I am," said Steve. "The only thing more enjoyable than spending my morning crawling through the mud to photograph a flock of least sandpipers is spending a morning with my wife and I together crawling through the mud to photograph a flock of least sandpipers." He and Susan own and operate the La Kris Inn, a small motel in Bandon, Oregon.

Find some things to do on the Oregon Coast and then visit the Oregon Coast this summer!