Under the Umbrella
United Way Dollars: Who Gets What, How and Why
By Lisa Baker

---
For decades, United Way has been the benevolent giant of workplace charity, the voice of our better selves. Each fall, like sinners finding sudden repentance in the presence of a nun, we dig deep, cough up and shell out.
But in recent years, analysts say, the nun has arrived to find increasing rebellion in the ranks.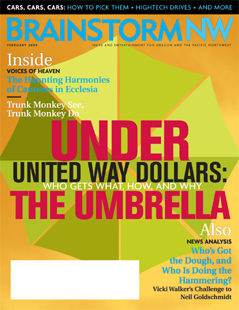 So says Dr. Eleanor Brilliant, a Rutgers University professor whose book "The United Way: Dilemmas of Organized Charity" chronicles the shaking of the foundation underlying the venerated charity in the ongoing culture wars.
While United Way giving was once considered a requirement of workers, whatever their collar color, many employers are finding that the age-old push to do good is resulting in bad attitudes. "Employees are more resistant now and employers are less likely to make them give," Brilliant says. "In the old days, there was a sense of 'we're all in this together,' but now it's more politically correct to be negative about United Way than it used to be."
The resistance has found its way to Oregon. At Intel, a massive money center for United Way, campaign directors saw a new level of dissent this year when cheery fliers went out to workers, reminding them to give.
Perry Gruber, community affairs manager for Intel who runs the campaign, said his "email blast" to all employees was blasted back by eight different employees, who demanded an Intel version of a no-call list. "The complaints were proportional to the amount of communication we were doing (about United Way giving)–this year we were aggressive in our communication."
Contributions to the Portland based Columbia-Willamette United Way chapter have declined for the past two years. In 2001, the charity set a goal of $21 million, but raised only $19 million. In 2002, with the goal set at $19 million, campaigners raised $17.4 million. The charity's officials believe they will meet their $17 million goal this year.
Shrinking contributions to United Way have been a trend across the nation, where campaign organizers have struggled to meet their stated goals, some missing by such large margins that intended recipients have had to cut budgets to compensate.
While some decline in giving can be explained by the slothful economy of the past three years, United Way's image problems could be a contributing factor, analysts say.
Trouble began for the charity in 1995, when its national president, William Aramony, was convicted of spending huge amounts of United Way funds on himself and his friends. In 1999, a United Way director in Santa Clara, California misrepresented the charity's finances and the clean-up effort resulted in drastic cuts to its local charities. This year, the Washington D.C. chapter is in hot water over alleged lavish spending on executives and staff members, and an executive of the United Way in Lansing, Michigan in February pleaded guilty to embezzling $1.9 million from the charity.
Other chapters, including Portland-based Columbia-Willamette, have been criticized for a comparatively minor offense—overhead costs between 17.5 and 18.7 percent.
But observers say social issues are more likely to cause the downfall of United Way: Chapters in many states–including Oregon–are battling donors disgruntled over funding decisions some believe are more political than charitable.
The Common Good
In past eras United Way saw itself as a warehouse for nonprofit funding whose choices were made based on whether a group was doing good works that benefited the weak, the ill, the impoverished.
It was a simple thing.
But in recent years, various groups have pressured it to redefine the concept of good works using a filter of perceived common values–values that include equal access and opportunity for gays.
Pushing the change locally were gay rights advocates and two government organizations: Multnomah County and the city of Portland, both of which threatened to ban United Way access to hundreds of their employees' paychecks if they didn't cut funding for the Boy Scouts, which bans gays from leadership roles.
Columbia-Willamette's board, which had decided in 2000 to retain the Scouts after some debate and 3,000 phone calls, letters and emails (60 percent of them decrying such a move), dumped the Scouts in April after the city and county delivered their threat. Three other Oregon chapters, Medford, Benton County and Hood River, had already approved policies that eliminated funding for Scouts.
Don Cornell, director of field services for the Boy Scouts' Cascade-Pacific Council, which serves some 50,000 scouts in the Portland area, says the council could lose more than $110,000 in 2004 funding. But that may not happen, if Eugene's Scout chapter is any indication.
Mike Quirk, Eugene Scout executive, said his chapter actually made more in direct donations after Benton County United Way cut off funding than before. "They cut us off in 2000 and then our funding actually went up. People started designating their gifts. We used to get $7,000-8,000 in (United Way) allocations; now we get $10,000 in direct contributions."
The defense of the Scouts has affected United Way's operations in the Portland-Metro area.
Jeremy Sarant, chairman for the Columbia-Willamette United Way, says some companies have barred United Way access to their employees because of the Scout scrap, but none of them were big enough to cause monetary damage, he said. One company with 300 employees, in fact, joined United Way after the decision.
But United Way staff says it did lose a significant longtime participant, a company with 944 employees who this year refused to allow the charity into its workplace as a result of the Scout decision. They declined to name the company.
The city of Gresham's police association banned United Way from soliciting its officers in-house this year. Paul Poitras, spokesman for the union, said officers had found United Way objectionable for years, but that the Boy Scout decision was the last straw.
"This is the first time as a membership that we've collectively decided anything like this. We said, if they're going to take a prejudicial stance against Boy Scouts, we don't want to be associated with it. We will not allow them to come in and solicit our members in the workplace."
Poitras says it is United Way that is discriminating–against people whose religious faith isn't the same as the United Way board's. "I'm not religious myself. I don't go to church, but I respect people who do, and the courts decided that we have freedom of religious expression and the right to associate with people who believe the same way."
He says the Scouts aren't the only United Way partner that excludes people. "Look at the other groups they fund. They're all exclusive in some way," he says. "There are groups for pregnant teens, and since I'm not a pregnant teen, I can't get in. There are groups for the elderly. I'm not old, so I can't get in."
Poitras' chief argument, however, is that the Supreme Court's 2000 decision, which held that it was legal for the Scouts to ban gays from leadership positions, should have settled the discrimination question. The ruling was based on the right of free association. "The United Way says all are welcome, that it's an umbrella group. And it is…unless you believe in God and possess certain morals."
It's a personal issue for Poitras, who at the age of 12 was headed for trouble. "All my brothers were in trouble with the law; I was too. Until I got involved with the scouts," he says.
It was his group leader–a cop–who inspired him to pursue a career as a police officer. "It's how I got interested in police work, how I came into my profession. I was taught values and morality in the scouts. It became abundantly plain that if I wanted to pursue law enforcement, I'd better keep my nose clean."
Poitras and his fellow officers believe that if United Way is going to be allowed unfettered access to government employees, it must be open to people of all faiths.
"They are allowed access that no other philanthropic organization is allowed. City employees distribute their materials on duty, and you have no choice but to be solicited, you're a captive audience. No other organization on the planet gets that kind of access, and it's always allowed because it's allegedly a non-partisan group."
John Copeland, president of the city of Troutdale police officer's association, said his union has similar sentiments, which is why its membership voted to condemn United Way's decision. "We voted to support Gresham. Most everybody agreed it was wrong to cut off Boy Scouts' funding."
Under the Umbrella
But the Scout decision wasn't the only one vexing potential donors.
Poitras said many of his officers are staunchly against any funding for Planned Parenthood, which the United Way supports in Oregon, because they see it as an organization that supports abortion.
But Stacey Graham, lead executive for United Way's Columbia-Willamette chapter, says the money is program specific, targeted to pay for medical exams. Lane County's United Way is also specific, contributing to the organization's sex education program, and paying for teen birth control. "None of the money goes to support abortions," she says.
Even so, Planned Parenthood's detractors say the more money that goes to education and birth control, the more cash is freed up for abortion.
Whatever the arguments, Rutgers' Brilliant says many United Ways around the country have declined to fund the group because of the controversy surrounding its abortion work. "The controversy over Planned Parenthood goes back a long way, so many United Ways do not fund it," she says.
Gayle Atteberry, executive director of Right to Life's Oregon chapter, says people "would rather their money not go for abortions, but people often don't look to see who the recipients are (on United Way's funding list). And what we find is that there's a big push by companies to be part of the team and give money to United Way. It's the politically correct thing to do. But while it started as a good thing, it's become a political monster."
While Atteberry's group is not a listed recipient of United Way funds the way Planned Parenthood is, individuals occasionally designate Right to Life on their United Way donor cards, and the charity delivers the money, as ordered.
At least, that's what Atteberry figured until recently, when a large donation went missing.
Wendy Beeckman, an auditor from Portland now living in Arkansas, had arranged a payroll deduction that over a year would amount to about $20,000 for Right to Life's Oregon branch. After nearly a year of payroll deductions, she contacted Right to Life to ensure it had been receiving the gift, since she had not received an acknowledgment.
It had not.
In fact, the organization never was told there was a donation coming, despite the fact that it was unusually large and should already have been arriving in installments on a quarterly basis, she said.
"I had to call United Way too many times, over and over. I had to hound them to get them to send the money to Oregon Right to Life," Beeckman said.
She was most disturbed at the reaction of a United Way staff member when she called to ask what had happened to her money. "He told me the money had gone to other organizations because they dole out money based on pledges rather than collections. They basically took a percentage of mine and gave it to these other organizations."
Beeckman says she asked "to speak to the highest guy there. When he finally called me back, I told him, 'If you can't do this right, I'm going to cut the check directly to Right to Life.' "
Finally, the money began flowing, and Beeckman credits the personal attention of a different United Way staff member whom she contacts on a regular basis to ensure that the accounting is accurate.
Beeckman chose to give through United Way to take advantage of her company's 50 percent matching pledge. "What scares me is, what about all the people who aren't so persistent?" she says. "I wonder what happens to the money when it doesn't go to the organization they designated?"
She says she and her husband believe strongly that abortion is wrong. It is such a strong conviction that when she tries to explain it, Beeckman finds herself dissolving into tears. "I'm just giving as much as I can," she says.
Atteberry says she now worries that there are donors assigning contributions to Right to Life that aren't getting to the organization. "And then I wonder whether we're getting all we should get, because unless United Way notifies us or the donor calls us, we don't know if there's someone giving to us."
She says she's not sure whether the problem was a managerial glitch or something more deliberate. "The United Way does have its own agenda," she says.
Graham, of United Way, says she'd be surprised if a financial glitch lasted longer than 48 hours, because the company prides itself on lightning fast trouble shooting.

She said donors can be assured that their designated funds will get to their chosen recipient, no matter the ideology of the organization.
A Swing Toward the Left?
In March, the Tampa chapter of United Way chose a speaker for its yearly conference on women's leadership issues: Susan Sarandon, whose well-known anti-war views and criticisms of President Bush have won her the undying enmity of conservative groups.
Newspapers covered the ensuing phone, letter and email brouhaha, in the midst of which the chapter canceled the event, apologizing and explaining that it was unaware of Sarandon's activism. The event was over, but the story refused to die, becoming ammunition for the growing conviction among conservatives that United Way had gone left.
Oregon's firearms enthusiasts didn't need the ammunition: They already believed, based on the fact that more than one anti-firearms group–and one they say actively lobbies for restricting gun ownership— is listed in the Combined Federal Campaign (CFC), a federal fundraising effort managed in part by
United Way.
Further, Ceasefire Oregon, a nonprofit anti-firearms group, is listed on Columbia-Willamette United Way's "get involved" webpage for wannabe volunteers.
Tim Dunn, executive director of Oregon Council on Firearm Rights, says he's seen all he needs to see. "These groups have a political agenda. It is strictly political to remove firearms ownership rights."
Jeff Sargent, management analyst for the Portland-based CFC, says that while money from the CFC is handled by United Way, the fund–set up specifically for giving by federal employees—is operated differently. Donors are expected, he said, to designate specific recipients from the list, which comprises 1,800 nonprofit groups–including a gun owners advocacy group. Most do. "Only about $30,000 to $40,000 last year out of $1.47 million went undesignated," he said. United Way distributes undesignated gifts, and each group on the CFC list gets a portion. "It's small potatoes," Sargent says.
Even so, both United Way and CFC insist that recipients be human service organizations. Neither accepts political action groups.
The rule, Graham says, is the same for United Way's "get involved" webpage, even though the groups, like Ceasefire Oregon, are not necessarily funded partners of United Way. The webpage also lists Compassion in Dying, which promotes assisted suicide.
Making a List, Checking it Twice
United Way backers tell you to look at the partners list, the list of groups actually receiving funding. See if you can find a whiff of politics in such recipients as the American Red Cross, American Cancer Society, Camp Fire, the Arc, Volunteers of America, YMCA, Salvation Army, Legal Aid, or the Epilepsy Foundation of Oregon.
Sarant, chairman of the Columbia-Willamette, says too many critics are focusing in on one or two narrow funding decisions and disregarding "the $17 million we raised that goes to causes that 99 percent of the public would support. It can have an unfortunate effect. You see it everywhere–from tax and spending policies to views about the Portland Trail Blazers," Sarant says. "People get swept up in the narrow issues rather than looking at the big picture. United Way has always been about the big picture."
Dr. Brilliant, of Rutgers, says bias has been alleged against various United Way boards for years, and that every board is biased in the respect that it matches the opinions and values of a community's luminaries. "It's very unusual for a board not to reflect the leadership of a community. It generally reflects the elite group in a community, and they vote their values."
A staff member from one nonprofit group, who asked not to be identified for fear of losing her group's United Way support, says it's a recipe for homogenization of nonprofits. Soon, she says, nonprofits will find that they can't have a mission statement that doesn't closely match politically correct requirements of funders like United Way.
Alan Charles Kors has his own prediction. Kors, co-director of the Foundation for Individual Rights in Education (FIRE), and a University of Pennsylvania philosophy professor, says taking sides in an atmosphere of growing cultural polarization will damage United Way long before it affects the strongly held convictions of nonprofit groups or their supporters. Simply maintaining consistency in such policies will be problematic, he says.
"If you think about it, the criterion (of non-discrimination) that they use against the Boy Scouts could also exclude giving to the USO, because the Army discriminates against gays. Or any Catholic charity because it is a fact that women can't become priests. Or any Muslim group because Jews can't be imams and any Jewish group because Muslims can't be rabbis."
Miffed donor groups, he says, will simply begin giving directly to their favorite causes.
"United Way is free to choose whomever it wants. But once its choices are exposed, people won't think of it as a common basket charity anymore and then the collapse of United Way is more likely...We're looking at the certainty that United Way will no longer exist as we know it."
If the umbrella collapses, in its place will be a system of smaller workplace charities that will step into the void, each representing a different viewpoint, so Americans can do the picking and choosing themselves according to their own political or religious belief,
Kors says.
"Americans will not be told what to believe. They want their right to disagree. If Americans can't agree to disagree about religion, we are really in trouble. That is what has saved us as a nation and made us so magnificent as a nation. This is where people have agreed to disagree without seeking to do harm to each other."
Sidebar 1: By the Numbers
United Way in Oregon: 23 chapters
Largest chapter: Columbia-Willamette,
50 employees
Campaign goal, 2003: $17 million
President's salary: Up to $180,000
2002 financials, according to Portland
area Better Business Bureau
Total Income : $ 17,396,827
Programs : $ 11,317,010 68.50%
of total expenses
Fund Raising : $ 3,729,400 22.57%
of total expenses
Administrative : $ 1,473,897 8.92%
of total expenses
Total Expenses : $ 16,520,307
Excess for the year : $ 876,520*
Ending Net Assets : $ 1,497,193
SIDEBAR 2: Follow the Money
United Way policies allow donors to designate gifts to any non-profit 501 c-3 organizations, even those not included on United Way's list of funded groups. The Cascade Pacific Council of the Boy Scouts received $141,000 in designated gifts through United Way last year and will continue to receive designated gifts through the charity.
Donors may also specifically forbid United Way from giving their money to certain causes with which they disagree.
Matching contributions from companies generally do not go to specific designees, even if the donor chose one. They are given to United Way's general fund, which is distributed to the charity's chosen partners.

SIDEBAR 3: United Way Board
Executive Committee
Chairman of the Board: Jeremy V. Sarant
Chair-elect: Rebecca L. Jewett
Treasurer: Peter W. Melhuish
Assistant Treasurer: Paul R. Oldham
Secretary: Shelley M. Marchesi
Assistant Secretary: Norbert F. Paulus

Board Members
Bernstine, Daniel (J.D., LL.M.), President, Portland State University
Bloom, Jay, President/CEO, Morrison
Child and Family Services
Branford, Julie E., Director - Human Resources, SEH America
Cameron, Charles D., County Administrator, Washington County
Carvajal, Jorge, Community Leader
Covert, Debbi, President, American Federation of Teachers-Oregon,
AFT, AFL-CIO
Dozono, Sho, President/CEO,
Azumano Travel
Ferguson, Dennis B., Community Leader
Ferran, Bertha M., Senior Mortgage Consultant, Windermere Mortgage Services
Foster, Tina L., Regional Manager, Oregon and SW Washington Metropolitan Region, U.S. Bank
Francesconi, James, Commissioner,
City of Portland
Haller, Andrew, Senior Vice President/General Counsel, PacifiCorp
Harris, Anthony R., Principal,
Unbounded Grace
Jewett, Rebecca L., President, Norm Thompson Outfitters, Inc.
Jordan, Michael J., Chief Operating Officer, Metro
Kantor, Gregg S., Senior Vice President, Public and Regulatory Affairs, NW Natural
Klitz, Steven M., Senior Vice President, Small Business Banking, Bank of America
Bernie Kronberger, Vice President,
Wells Fargo
David B. Lippoff, Vice President/General Manager, KOIN TV
Marchesi, Shelley M., Director of Communications and Public Affairs, Housing Authority of Portland
McMahan, Timothy L., Partner,
Stoel Rives LLP
Melhuish, Peter W., Community Leader
Menhart, Robert, Officer of the Portland Customer Care Center
Moll, Martin D., Director, KPMG
Monnat, Mary, President/CEO, Tualatin Valley Centers
Morgan, Michael M., Attorney,
Tonkon Torp LLP
O'Connor, Judy L., Executive Secretary-Treasurer, Northwest Oregon Labor
Council, AFL-CIO
Oldham, Paul R., Vice President and Corporate Controller,Tektronix, Inc.
Rosenbloom, Richard H., Office Managing Partner, Deloitte & Touche LLP
Sarant, Jeremy V., Attorney at Law
Stickel, Patrick F., President, Oregonian Publishing Company
Talton, Carl, President, Entrepreneurial Community Collaborative
Woolworth, Richard L., Chairman and CEO, The Regence Group
Worthy, Michael C., President/CEO,
Bank of Clark County
---