Redefining the Green Standard
Innovative certification alternative could make more builders go green
By Lisa Baker

---
It's not easy being green.
In fact, as it turns out, it can be an expensive, onerous and iffy enterprise when applied to building practices.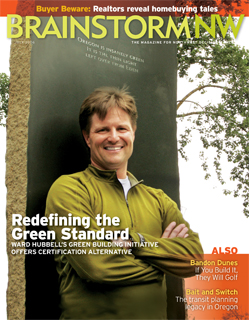 But green building—as environmentally sensitive construction is called—is more than just fashionable. Some in the building trades say it's the likely future difference between those with contracts and those without, those who will continue in the trade and those who will be out of business soon enough.
Consider: Seven states have made stringent green standards mandatory for their most lucrative contracts—state-of-the-art civic centers, community centers and libraries. Many other states are considering such standards. Those states without green laws nevertheless often request building proposals that include high, some say impossibly high, environmental goals. In Oregon, rigorous green standards can buy tax breaks but are not yet mandatory—a situation some observers say could change.
In the private sector, environmental features are most at use in commercial buildings: Green boosters hope to see more of them by appealing not to developers' sense of civic responsibility but to the capitalist hearts of their clients: Green buildings can mean lower energy costs and more vigorous, productive employees, which in turn make for greater profits, they say.
The idea of green building is not a new one; it has simply expanded. At one time, a "green" office building was one that contained a recycling bin and a sign at the employee door that said, "Last one out turn off lights."
Now, being green includes water conservation, energy-saving heating and cooling systems, toxics-free carpeting, fresh air standards, and the use of environmentally friendly exterior materials. Buildings that collaborate with public transit or somehow make walking or bike riding a feasible alternative for future employees are also considered "green."
But as green has become the color of choice, some in the trades say the approved green system—as it has evolved—is playing favorites and holding "greenness" hostage. Now, questions are arising over how green is green enough, and whether a building project can be so green that it's in the red.
The U.S. Green Building Council, for all practical purposes, has been the sole arbiter of greenness since 1994. The council uses a program called Leadership in Energy and Environmental Design (LEED), which awards points toward certification based on council standards for environmental friendliness. Platinum and gold certifications are the top of the 69-point scale—so green that the building itself is nearly capable of photosynthesis.
But many in the building industries say LEED, despite its popularity with elected officials, continually fails the acid test of practicality and that it is a harsh and capricious taskmaster for anyone attempting to reach the holy grail of certification.
Those who work in wood products are particularly peeved with LEED, saying the system has a bias against most wood products produced in the Northwest.
In the end, these critics say, if the LEED system becomes law—as it has in a limited way in Arizona, California, Washington, Maine, Michigan, New Jersey, and Pennsylvania—it will run them out of business.
Representatives for the U.S. Green Building Council (USGBC) say that LEED is a work in progress and that changes are being made. In recent years, they say, the system has become more user-friendly. USGBC spokeswoman Michelle Moore said a committee has been assigned to look into whether LEED's restriction on forest products is reasonable.
Nevertheless, many in the building industry are backing a new system used in Canada that they say is more practical and realistic, making it probable that more builders will go green. They say it takes less time and less money to receive certification and that the system holds no grudges against Northwest forest products.
The Green Building Initiative, a nonprofit with former Louisiana Pacific executive Ward Hubbell at its helm, is hard at work winning support for the system, called Green Globes. The effort to infuse the system nationwide is actually headquartered in Oregon, which ironically has not yet embraced it. But so far, five states, Connecticut, Maryland, Arkansas, Hawaii, and Wisconsin, have approved it as an alternative to LEED.
The program began in Canada in 1996 with a smattering of organizations and has since been adopted by Canada's federal government for use in its public buildings. It was adopted by the United Kingdom in 2002, according to the Green Globes website.
Hubbell says Green Globes addresses every glitch in the LEED system. The cost difference is dramatic, he says, up to 30 percent less than the LEED system. And it is user friendly, with a web-interactive platform, www.greenglobes.com, that makes it possible to predict with accuracy whether a particular design feature will win Green Globes certification or not.
But the main advantage, according to Hubbell, is that it can break the monopoly LEED has on the concept of green and make it likely that green will be within reach of the average builder.
Observers say annoyance with LEED could make Green Globes very attractive for many in the industry.
Northwest wood products producers can attest to that.
Frank Mendizabal, spokesman for Weyerhaeuser Co., says lumber from most Oregon wood producers, whether small woodlot owners or large commercial concerns, is not certified for use in LEED buildings because it is produced under forest management practices that remain unrecognized by LEED.
He says LEED's preferred management system overly restricts practices that make for successful replanting in the Northwest. For example, he says, regulations on herbicides needed to restrain the growth of competing brush while tree seedlings are small are so strict that most Oregon growers would reject them.
Environmentalists also have their concerns about LEED. Grist magazine, an environmental publication, commented last spring that LEED "has become expensive, slow, confusing, and unwieldy, a death march for applicants administered by a Soviet-style bureaucracy that makes green building more difficult than it needs to be."
Grist writers agreed with builders that green building the LEED way is unnecessarily expensive. "In the real world, LEED certification typically adds 1 to 5 percent to the budget. The myth that going green costs nothing is damaging to clients who discover the reality deep into the process," they wrote.
A builder responding to a USGBC survey put it this way: "I'm sick of the hype. I'm sick of meetings where you spend endless hours debating a LEED point instead of just good design...I'm sick of the overblown posturing and attitudes about who is 'green.' I'm sick of flawed energy studies that reach overblown and erroneous conclusions."
Others say they favor Green Globes because unlike the LEED system, it doesn't require a cadre of paid consultants and an avalanche of documentation to earn credit for green features.
Greg Specht, a Beaverton commercial builder who backs Green Globes as a viable alternative to LEED, says analysts at the USGBC are unable to give an assessment at the outset of a project on whether a particular design feature will net points. Coming to a determination, he says, takes too much time and too much paperwork.
Specht was the builder of Hillsboro's new Civic Center last year, a building that was LEED certified gold because of its solar panels, use of wind energy, high performance glass, infrared plumbing fixtures, and hospital-rated air filtration system that destroys bacteria, pollen and mold spores.
While the company is pleased that the project triumphed, Specht says it cost nearly $500,000 more than a conventional building and hundreds of hours to interpret LEED points.

"At end of the day, we got what we targeted, but you don't know how you're going to do until well after you've spent the money to install a particular mechanical system, a novel fuel efficiency…you just don't know. We don't know what the final score will be even if we do what we say we're going to do until well after completion of project."

Moore says the council has dramatically improved data availability so that builders can approach projects with more certainty. She says the council has created a comprehensive online presence and a 300-page PDF file for builders.

LEED, she says, has a learning curve that can prove more costly for first-time users than for those experienced with it. Even so, she claims, costs amount only to 1 or 2 percent of a project budget, most of which is paid back in a year in energy savings.
But Green Globes itself isn't without its critics either.
Environmentalist groups such as the Rainforest Action Network (RAN) say the new ratings system lacks rigor, that it is a watered-down product of an industry too married to old, environmentally insensitive ways.
In a 2005 article on RAN's website, the group dismisses Green Globes as a "half-strength green building program ostensibly backed by a full-strength collection of old school industry trade associations…staffed by PR hacks from Louisiana Pacific."
Rep. Scott Bruun, R-West Linn, whose day job is chief financial officer for his family's building business, says Oregon would do well to encourage different kinds of green certifications rather than favor a single one as it does now.
"We want people to do green buildings, but we should avoid mandates. We have too many mandates already when it comes to building. What we need here is a carrot rather than a stick."
Bruun says he favors a green certification that doesn't cost so much as to make commercial real estate too expensive to start-up businesses or to those looking to expand. "We've got just about every impediment to business in Oregon. If we can lower the cost of entry into the Oregon marketplace, for existing businesses and for those who will come here, that creates jobs, which creates revenue. More people and more businesses—that's a wonderful thing for Oregon."