The Business of Golf
Ten people who "keep Oregon green"
by Jim Pasero
---
Every state has its golf celebrities, and Oregon is no exception. Long time PGA Tour professional Peter Jacobsen won the U.S. Senior Open in 2004; Mike Keizer put Oregon on the international golf map by building Bandon Dunes; Tom Maletis runs the LPGA's Safeway International in Phoenix and Safeway Classic in Portland; and Cleveland High's Dave Manougian is president of The Golf Channel.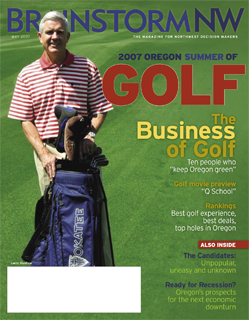 But look behind some of these celebrities — dig just a little deeper — and you'll discover a long list of men and women quietly, diligently building the business of golf in Oregon. Across the state they build the courses, design the equipment, provide the instruction, bring local and national tournaments to Oregon, and develop the crown jewels of Oregon's best courses. Thanks in part to them, Oregon has become an international golf destination for professionals and tourists alike.
This list could be even longer, but meet just ten of the people who "keep Oregon green."
Jerry Andres
The CEO of Jeld-Wen Development, located in Redmond, Ore., has a busy year ahead. This fall Jeld-Wen opens its seventh golf resort in the Northwest, Brasada Ranch in Central Oregon. Unlike Eagle Crest Resort or the Running Y Ranch, Brasada Ranch will be private. Amenities include an 18-hole golf course designed by Peter Jacobsen. "It is going to be by far the marquis course for Central Oregon, and one of the top courses in the Northwest," Jerry Andres says about the Jacobsen/Hardy design. Brasada Ranch will host the U.S. Olympic boxing team in ten bouts against the Russian team on Oct. 27 to celebrate the opening. Andres also oversees Jeld-Wen's new development on the Sea of Cortez at the tip of Baja, Mexico. The international resort, Chileno Bay, offers only 44 lots priced between $5 and $11 million. Word has it that buyers for the project with two Tom Fazio-designed golf courses include a who's who of internationally famous business leaders and pro golfers. In his spare time, Andres relaxes by training the approximately 40 Clydesdales on he and wife Jinny's 120-acre farm and by driving an eight-horse hitch at parades and fairs.

Mary Budke
Dr. Mary Budke grew up in the tiny community of Dayton playing the nine-hole Riverwood course, which no longer exists. From her small-town roots, she eventually won the U.S. Women's Amateur in 1972 and the 1974 Curtis Cup. Budke had opportunities to join the LPGA, but she says, "I thought I would be a mediocre player." She chose medicine instead, attending medical school at OHSU. Budke credits then USGA Executive Director Frank Hannigan in helping advise her future. "He told me, 'Why don't you go into medicine?' And his nudge helped me." Today, she is an emergency room doctor at Eugene's Sacred Heart Hospital. In 2002 she captained the USGA's victorious Curtis Cup team in matches held at Fox Chapel Golf Club in Pittsburgh, and she is currently a member of the executive committee of the Oregon Golf Association.
Ric Jeffries
The Corvallis native had a dream to own and build his own golf course. And build it, he did — all 36 holes. The course he and his wife, Debbie, built is RiverRidge, located in Eugene. Ric Jeffries spent the first two decades of his career as a PGA club pro in Florida and North Carolina. But Jeffries was always looking for land in Oregon where he could build his course and be his own boss. "We closed on the property June 3 of '88," says Jeffries. "I designed it myself and stuck a shovel into the ground." He admits that architect Bob Cupp and Tokatee developer Nat Giustina offered free advice when needed. Today, the Jeffries run the area's First Tee program with Eugene's YMCA. Last year nearly 250 kids spent their summer vacation at RiverRidge learning the game. Why the passion for teaching golf to kids? Because, says Jeffries, "Golf teaches life skills, values, and it's a great game."
David Jacobsen
Golf writer Curt Sampson, author of "Royal and Ancient," "The Masters" and "Hogan," is working on a new golf book this summer, called "Golf Dads," featuring 15 legendary fathers and sons. One of the 15 is Oregon's Erling Jacobsen and his sons Peter and David. David, the older brother, played college golf at the U of O in the mid '70s and won all Northern Division Pac 10 honors. In his competitive playing days, David Jacobsen made it to the final day of the PGA's Q-school, finished second in the '92 Oregon Amateur, competed in the U.S. Amateur at San Francisco's Olympic Club, and played in several Hudson Cup matches where the area's best amateurs compete against the Northwest's best pros. In 1990, David was the USGA's general chairman for the U.S. Amateur Public Links championship at Eastmoreland. Jacobsen continued his work with the USGA, helping run the 2000 Public Links Championship at Heron Lakes and U.S. Women's Amateur at Waverly, his home club.
John Zoller
John Zoller is director of golf for the City of Portland. He oversees five of the best municipal courses in the world: Eastmoreland, Rose City, RedTail, Heron Lakes-Greenback, and Heron Lakes–Great Blue. Zoller apprenticed with Robert Trent Jones Jr. in Hawaii, where together they built the Makena golf course on Maui. After Makena was finished, Jones offered Zoller two choices for his next assignment. "The Philippines or Egypt," says Zoller. "Both were under martial law at the time, and I didn't want to take my family there." Zoller chose instead to become superintendent for Heron Lakes in 1980. Four years later, he became the city's director of golf. During his tenure he's managed to bring two U.S. Amateur Public Links Championships to Portland, as well as build new clubhouses for Eastmoreland and RedTail. He's also redesigned RedTail Golf Course and designed Quail Valley.
Jim Skaugstad
The Running Y is rated #66 in Golf Digest's America's 100 Greatest Public Courses, and it is also home to one of the areas best pros and most popular personalities — Jim Skaugstad. Skaugstad, who tried the PGA Tour in 1968 and '69 and played in that year's Bob Hope tournament, began his PGA club pro career in Oregon in the 1970s at The Resort at the Mountain. He stayed 14 years, moving to Florence as director of golf when Sandpines opened in the early '90s. Five years later, Skaugstad was offered the same position at the Running Y and he moved to Klamath Falls. "I love the place," says Skaugstad referring to Klamath Falls and the Running Y Ranch. "I've always been in small towns: Welches, Florence, Klamath Falls." Last May, The Golf Channel went on location to the Running Y and filmed its series "Golf With Style," and last September the course played host to the Northwest Open. Not a bad season when you consider that in between those two events the dyke broke on the Klamath Basin and flooded holes three, four and five. "Number four was totally gone. We had to re-sod the green and replant the fairway. Number three came back within six months, and number five came back within a month."
Cindy Davis
Cindy Davis is the general manger for U.S. Nike golf, a position in the golf industry for which she is especially qualified. Born in Bowie, Md., Davis was the two-time Maryland amateur champion and First Team All American at Furman College in South Carolina, where she was recruited by LPGA legend Betsy King and was a teammate of Dottie Pepper's. After college, Davis came tantalizingly close to qualifying for the LPGA tour, but she opted for an MBA at University of Maryland. Her first job in the golf industry was overseeing the LPGA's communications and marketing division, mentored by LPGA commissioner Charlie Meecham. After stints as president of Arnold Palmer Co. in Chattanooga, Tenn., and at The Golf Channel, Nike Golf asked her to handle its U.S. division. "We are 4th in the golf industry and have been enjoying double digit revenue increases," says Davis. "Not a lot of golf companies can say that. I am proud of our product because we are willing to do innovation. First with the core ball, then with shoes that are technical but still very sophisticated. And now we are starting to do that in the club business."
Jim Wilkinson
If you're looking for a tune-up for your swing, Jim Wilkinson, director of instruction at Langdon Farms, is probably the area's best choice. Twice he earned Player of the Year honors for the Pacific Northwest PGA region. He's also been PGA Teacher of the Year for the Pacific Northwest. For two years in the 1990s, Wilkinson played with exempt status on the PGA's Champions Tour. These days Wilkinson divides his teaching time between winters in California at the Indian Wells Vintage Club — where he teaches Korea's Y.E. Yang, ranked 52nd in the world — and summers at Langdon Farms — where he instructs course owner Chris Maletis, ranked in the top 20 of U.S. senior amateurs. What secret makes him so popular with amateurs and professionals? "Keeping it simple," he says. "I rely on good communication skills between myself and my students, teaching a good grip, good posture and good impact."
Jim Pliska
Years ago, Todd O'Neal, head pro at Emerald Valley Golf Course, was working as a club professional at Kapalua Golf Course in Hawaii when he arranged a game with an old friend visiting from Oregon, Jim Pliska. Pliska, owner of Space Age Fuel, a Gresham-based company, was looking to buy a golf course. Pliska asked his friend O'Neal if he knew the Emerald Valley course. O'Neal not only knew it, he grew up playing high school matches on it. "You buy it, I'll run it," O'Neal told Pliska. The pair took over in 2002 and soon hired Dan Hixon to help them with a five-year plan to redesign all 18 holes. "We've expanded the number of bunkers from 19 to 48, and we've lengthened the course from 6,800 yards to 7,100 yards," says O'Neal. "Emerald Valley is now the most challenging course in the Willamette Valley." The improvements haven't gone unnoticed. Emerald Valley has recently been host to U.S. Open sectional qualifying events, U.S. Amateur qualifying, and to the PNGA Men's Amateur.
Larry Giustina
Golf and timber are three-generation businesses for the Giustinas. In the 1960s when Larry's father Nat decided to build a golf course near his cabin on the McKenzie River in Blue River, Ore., he asked Ted Robinson to design it, Eugene Country Club's John Zoller to seed it, and Dean Pape to provide equipment. They did, and for more than 40 years Tokatee has been one of Oregon's best courses. Twenty years later, Nat's son Larry, who played golf at Oregon State, took over the family timber business. Today Larry is general partner of both Giustina Land & Timber and Tokatee Land Co. He's also past chair of the Oregon Forest Industries Council and the Northwest Forestry Association. But it was back in the '80s that Nat was deciding how to deliver a golf course to Oregon State University, which owned land on the Willamette River but had no money and no plans for a course. "My dad sold some property in Eugene, and that provided the seed money for Trysting Tree," says Larry, current president of the club. Again, Ted Robinson would be the designer, and Trysting Tree was finally completed in the late 1980s. Today, third generation OSU graduate Mark Giustina, like his father before him, is running more of the family business. Last month Golf Business magazine, the publication of the National Golf Course Owners Association, put father and son, Larry and Mark, on its cover.
BrainstormNW - May 2007