Swing By This Classic Summer Event:
The 2007 Safeway Classic
By Lisa Baker

---
How do you know you're successful?
If you're in business, maybe it's the size of your pocketbook, or the fact that everyone's always asking you how you got to be so successful. Your phone rings a lot. You feel pressed for time.
If you're a premiere athlete, cereal boxes carry your name. People stand next to you to have their pictures taken. Your routine tonsillectomy is front-page news (which makes you ponder what would happen if you had hemorrhoids). Your patience is stretched and your time is non-existent.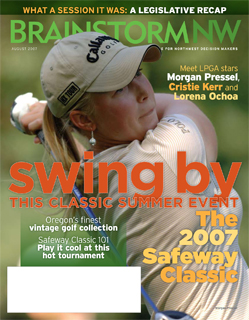 So far, Morgan Pressel — who in April at age 18 became the youngest competitor to win a major in the Ladies Professional Golf Association — is not yet a household name. There is no "Pressel Peanut Butter Puffs," and if she had a tonsillectomy, it probably wouldn't appear in the newspaper at all.
Even so, her time is already non-existent.
She figures she spends six months of the year camped in hotel rooms near tournament sites. When she gets home to Boca Raton, Fla., there frequently is a round of family events, parties and get-togethers waiting for her. She's barely arrived, it seems, when it's time to repack. "I'm always packing and unpacking," she says.
A blog entry she wrote just after winning the Kraft Nabisco Championship in Rancho Mirage reveals just how difficult it is already becoming: "Right now I am on a plane, as I usually am when I write these blogs (because that seems to be the only free time I have), back home for a week off. But I have a bad feeling that it is not going to be like a typical week off. I'm already about ready to throw my phone at the wall because it won't stop ringing, and right when I go through 50 emails, I have gotten 50 more."
If the golf media have their way, there will be more of that.
They compare her, almost daily, to Michelle Wie, golf's teen phenom whom most folks — even non golf-aholics — have heard of.
But their growing, and often glowing, attention may only be partly a reaction to Pressel's prodigious skill. Some of it may be rooted in the search to find a replacement for Wie as the young woman's golfing role model. Wie, who aside from having a rough year in which she failed round after round to break par let alone win any tournament at all, has lost fans among links boosters looking for genteel manners and an engaging personality to go along with a good, strong drive off the tee.
Wie, in the beginning a media darling, now appears to cause a ruckus nearly everywhere she goes. She's been criticized for firing a long line of caddies, allegedly snubbing her pro-am playing partners, wearing too-short skirts on the course, and — the latest — allegedly faking a wrist injury in June to get out of a tournament in which she was playing badly, badly enough that she would have been disqualified from LPGA tournaments for the rest of the year.
Worse, golf commentators have implied that she is not the player she appeared to be. Despite their early swoons over the length of her drive, some now believe they were somehow deceived and that she is indeed not "all that."
Enter Pressel, the new favorite.
She first came to the fore in 2001, when at 12 she became the youngest player to qualify for the U.S. Women's Open. In 2005, she was the number one ranked junior player in the country.
Upon Pressel's first professional victory in April, the golf world exploded with superlatives, only some of them aimed at her actual golf game. Pressel was called "articulate, attractive, young, and one of the most marketable female athletes in the world … on the cusp of superstardom." One writer was inspired to proclaim, "A Star is Born."
So, what is it about Pressel that has prompted this outpouring?
Observers believe Pressel is the package the LPGA has been waiting for: earthy, unassuming, family-oriented. She's a girl who continued to attend high school and earn excellent grades while transforming herself into a golf star and managing in the process to win herself a golf scholarship to Duke University. She lives with her grandparents, who travel with her to every tournament and devote their lives to her success. And if that's not enough, golf wags looking for substance can always point to the fact that the last book she read — according to her website — was "Jane Eyre."
But there's more to the Pressel movement.
There's the ideal: the athlete who has endured tragedy and triumphed anyway.
Morgan Pressel's mother died of cancer four years ago, long before her daughter's come-from-behind victory at the Kraft Nabisco. Interviewers looking for character believe Pressel's painful past might have left her with the kind of heart often lacking in privileged teen sport stars.
And so, a commentator for the website The Sand Trap puts it this way: "There is also a softer side to Pressel. When she speaks of her mother who passed away at a young age from a bout with breast cancer, you can feel the genuine sorrow and anguish inside of the spunky kid. I almost feel like crying."
And while the golf elite would say "there's no crying in golf," Pressel's tears of frustration after missing a shot that would have resulted in her pairing with top-of-the-sport Annika Sorenstam, her hero, won her fans who found her despair moving — even adorable.
Adorable, however, has its limits.
Pressel has joined the growing backlash against Wie, declaring to Sports Illustrated that the media's initial fascination with Wie was more about being "politically correct" than a reflection of Wie's true level of skill. "I don't believe in being politically correct," she declared. "Michelle hasn't played a lot of junior golf, so she hasn't learned how to finish tournaments."
When a media representative commented about the amount of press attention attracted by Wie, Pressel bristled, according to Worldgolf.com: "I was on the [sports] cover of the New York Times today," Pressel said, according to the report. "I was in the Boston Globe the other day."
In an interview with BrainstormNW, Pressel answered most questions with an edge of impatience, but laughed when asked about the idea that she'd recently read "Jane Eyre." "Where does it say that? I may have thumbed through it once." Instead, she says, her favorites are the Harry Potter books. Number five especially.

Although her website states that her Jewish religion is very important to her, Pressel's blog does not reveal thoughts or comments on faith. Instead, it talks of music she downloads into her iPod, not having time to get a manicure or a tan while on tour, and how it was her grandmother's idea to take the customary jump into the lake that surrounds the 18th green after winning the Kraft Nabisco Championship.

Despite attempts to package her as something supernatural, Pressel sounds like a typical teen, except for one thing: Her extreme drive to succeed, to aim at the goal and then sprint directly toward it at breakneck speed.

She points out that while her peers spent high school attending parties and sleepovers and are just now casting about for something to do with their lives, Pressel says she's been keyed to her goal since she was 12 and working on it diligently every day, forgoing parties and sleepovers and shopping mall trips that other girls enjoyed. "I was always traveling and practicing and focusing on my golf," she says. At the same time, she says, she didn't lament the time as lost. "I don't have that kind of personality," she says.
It is that single-minded goal-seeking that prompted her decision to turn down the Duke scholarship, which likely seemed the slow boat to success, and petition for early entry to the LPGA.

While she calls all that has followed "overwhelming," it is the race to be run at the moment. "I know what I need to do," she says. "And I do it."