Stay and Play in Oregon
Don't leave now, the winter fun is just beginning!
By Bridget Lynch

---
Winter in Oregon traditionally means gray days, long nights…and rain. Escape to warmer climates is tempting. But Oregon winters provide the perfect opportunity for activities such as mountaineering, skiing, fishing, hunting, and even indoor tennis. So—get ready Oregonians—it's time to try out some new sports. And who knows, maybe we'll even stay dry…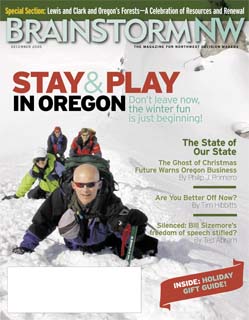 Mark Seker
MOUNTAINEER
Mark Seker moved to the Northwest to find the third dimension. Though he was an outdoor enthusiast all of his life, living in the Midwest meant one thing to him—flat land. And he wanted mountains. Lots of them.
"I had the chance to pick the city where I wanted to live, and somewhere with quick access to the Cascade volcanoes won," Seker says.
In 1998, Seker joined the Mazamas, a Portland climbing club that offers 500 climbs and 300 hikes annually, with two goals.
"I wanted to learn how to climb and I wanted to meet chicks," Seker says smiling.
He accomplished both. Now a seasoned climber and true climbing nut, Seker met Renee, the woman who became his wife, in the Mazamas.
In the climbing nut category, Seker has climbed Mt. Hood seven times so far this year. He prefers that climb because the road to Timberline Lodge is always plowed and allows you to drive high up on the mountain, whereas other peaks it would take multiple days to climb from the base. Mt. Hood is the second most climbed glaciated peak, Seker adds. Mt. Fuji in Japan is the first.
"It is most definitely a passion," Seker says. "It's like oxygen to me. The Northwest is such a great place to live because you don't have to go on vacation to go to the mountains."
Climbing destinations and training areas are incredibly easy to get to from Portland, Seker says. One can decide to go climbing in the morning and be on the mountain very quickly.
"You don't have to make a plan," he says. "You can just go ahead and go when the conditions are right."
It even seems like some employers understand the call to the mountains, he adds hopefully. Seker has spent his professional career in sales and management in the information technology services industry and says he hopes his next employer is one of those understanding types.
Seker often trains in the Multnomah Falls area and throughout the Gorge.
Mountaineering was not a difficult sport to learn, Seker remembers.
"I've been a lifelong jock," he says. "It was just a matter of learning some techniques and how to use some tools like crampons and ice axes. Others might say it's difficult and complex. It's subjective. But you've got to try it."

Lori Freeman
MOUNTAINEER
On her first climb nine years ago, Lori Freeman was hooked. From that moment on, she was a mountaineer.
"I love it," Freeman says. "When people ask me what I do, I don't tell them I'm an accountant. I tell them I'm a climb instructor."
It was after Freeman finished intermediate climbing school—nine months of extensive climbing—that she decided to become a basic climbing instructor.
"I really like teaching," she says. "Seeing someone summit for the first time is a wonderful thing to watch. They stand taller and hold their heads higher. Taking someone who has never climbed and getting them to the top of something and seeing the look on their face is very powerful."
Freeman teaches climbing for Portland's Mazamas—a climbing club with the motto "Nesika Klatawa Sahale" or "We Climb High" in roughly translated Chinook jargon.
She joined the Mazamas after climbing her first glaciated peak—the primary requirement for membership.
In her opinion, women make good mountain climbers because they work well in teams – an important asset when the whole climbing party is roped together.
"Women, at first, tend to be intimidated by the idea of mountaineering. They say, 'I'm too little,' or 'I'm not strong enough,' but to me it's not about speed; it's about stamina. And it's not about strength; it's about heart, and those are places where women excel."
When she is the only woman on a climb, Freeman says it tends to be an eye-opener.
"It's a totally different experience," she says. "Men tend to be more goal-oriented than women, and for me, climbing is about the process. Women are more about enjoying the journey. Climbing is about putting one foot in front of the other for eight to 10 hours—it's definitely not about speed."
Add to that the fact that women carry the same gear as their male counterparts while often weighing a great deal less. It is about a different kind of strength in female climbers, she says.
Regardless, Freeman finds mountaineering to be a very doable sport for everyone.
"All of us are capable of doing so much more than we realize," she says.
Though she grew up in Alaska, it wasn't until she got to Portland with mountains to climb so close by that she started mountaineering. Now she trains in the Gorge, and her favorite peak is South Sister.

Mark Bachmann
FLY-FISHERMAN/GUIDE
Mark Bachmann does not know how he got started as a fly fisherman. It became a part of his life so early that he guesses he was born with a fly-fishing gene.
"Otherwise I don't know how it all started," Bachmann says, laughing.
When he moved to Oregon from the Idaho panhandle in 1963, he immediately started fishing for steelhead and salmon.
"Idaho is good, but fly-fishing is better in Oregon," Bachmann says. "The best year-round steelhead fishing in the world is within a 150-mile radius of Portland."
Bachmann credits the unique Oregon climate for its excellent fly-fishing.
"Go north and it gets too cold and freezes in the winter, go south and it gets too hot in the summer. Oregon has it just right," he says.
Bachmann compares fly-fishing to sports like skiing and golf.
"You get out of it what you put into it. It's accessible to anyone—anyone can do it, but it takes practice. It's not something you can do casually. Like golf and skiing it's a sport you play against yourself. Fish are a way to keep score but not the only way."
Though he has been fly-fishing for over 50 years, Bachmann is still passionate about it. He still wants to fly-fish, and he plans to do if for the next 20 years, he says.
In 1981, Mark and his wife Patty opened The Fly Fishing Shop in Welches. Since then he has also worked as a guide on the Sandy, Deschutes and Clackamas Rivers.
The groups he leads on fly-fishing trips tend to be small, he says.
"It's that kind of sport. It's not a gregarious sport like golf that you go and do with a group of people," he says.
It is that very thing that attracts many of the sport's aficionados. Robert Redford's 1992 movie, "A River Runs Through It," depicts the sport as one of quiet solitude, and Bachmann thinks it is a good portrayal of what a day on the river might be like.
"It's a great way to commune with nature and enjoy wild places," Bachmann says. "The added element of learning to tie flies is a way of learning about nature too, because flies are facsimiles of nature itself."
Bachmann considers the Sandy River his home water but keeps the location of his favorite spots a secret.
"But maybe there really aren't any secret spots anymore," he says. "Every place is pretty well explored, but regardless, there are still a lot of places to go where you won't see anyone all day."

Jeff Pentecost
Fly-fisherman
At this point, it doesn't matter to Dr. Jeff Pentecost if he catches a fish. It's about the process.
"I am completely addicted to the process of fishing," says Pentecost. "If I don't catch a fish, I'm quite happy. It's more esoteric than practical. In the end, it's about whether I got to go through the actions."
Pentecost, a Montana native, has been fly-fishing for as long as he can remember. As one of seven kids, it was time to spend alone with his father.
"I remember standing on the banks when I must have been about five years old—I wasn't big enough to get in the water," Pentecost says. "When it was time to move on, Dad would back up to the bank, and I'd ride piggyback to the next spot."
It was then that the passion took root, he says.
Pentecost also fondly remembers fishing at 5:30 a.m. on the Fourth of July while it was snowing in Central Montana.
"It was miserable, but it was fun to be with Dad," he says.
As life got busier, including college and medical school, Pentecost used fly-fishing as a way to be alone and re-center, he says.
"No one could get to me out in the water," he says. "The sound of the water tends to erase things. You can get lost right there. That is the art of fly-fishing—you start thinking about what you are going to do before you even see the stream. It alters your frame of mind, and you get into the mode of quiet and moving slowly."
Pentecost's favorite escape is the Metolius River northwest of Sisters.
"The water clarity is unparalleled. It reminds me of my childhood. But that also means it makes for difficult fly-fishing because the fish can see you," he says. "There are a number of beautiful streams in Oregon, but this is my soft spot."
The location of his overall favorite—the stream in Montana where he fished as a kid, remains a mystery.
"It's the best place in the world, but it's a secret," he says.
In his day job as a physician and heart researcher at OHSU, Pentecost met Juanita Struble, owner of Struble Manufacturing, the world leader in the manufacture of fly-fishing reel seats located in Sutherlin, Ore. Struble's husband Glenn started the company and died at an early age of heart disease. The two struck up a friendship immediately and soon Struble, who turned 80 in November, told Pentecost that he was the person who should take over the business that meant so much to her. He was very honored but surprised, he said.
"It took 12 years and looking at 30-35 people to find the right person to take over the business," Struble says. "But Jeff was absolutely the right person for the job."
After a great deal of soul searching, Pentecost decided to go for it.
"I thought about it and thought about it, and I couldn't find a reason why not to do this," he says.
The timing was right because Pentecost found out his heart research grant would not be renewed. So, instead of ramping up his clinical practice, Pentecost dove into the world of high-end fly-fishing equipment.
The product, the company and the people—many of whom have been there from the start—are amazing, Pentecost says.
"The reel seats look like jewelry," he says. "They could do it faster, but it wouldn't end up like this."
Though there were reasons for Pentecost to be hesitant to invest in the fly-fishing industry, including drought and competition with Asian manufacturers, he knew it was the right thing to do for him, he says.
Pentecost still does heart research on Fridays and Saturdays but he spends the rest of his time immersed in the sport and the business of fly-fishing.

Sandi Shaub
SKIER
It took Sandi Shaub 43 years to find comfortable ski boots.
Shaub, who is 55 years old, has been skiing since she was a 10-year-old kid. But until recently her feet have never been comfortable while she was on the slopes. Even so, achy feet did not stop her from enjoying the sport she loves.
"The ski industry didn't support women's recreational skiing when I was a kid," Shaub says. "I couldn't find boots that fit, so I wore men's boots. In fact, I didn't find a comfortable women's pair until two years ago."
Shaub loved skiing from the start when she skied at Spout Springs in the heart of the Blue Mountains in the Umatilla National Forest near Weston, Ore. It was Shaub's good luck to live nearby, because Spout Spring with its extra-wide, well-groomed runs is considered a great place to learn how to ski.
Shaub's "day job" is the worldwide technical publications account manager for NACCO Materials Handling Group. She has worked there for over 30 years.
Though she took some time off here and there—in high school when she didn't have money for a lift ticket and a few more years when her kids, who are avid snowboarders now, were babies—skiing has always been Shaub's favorite sport.
Fourteen years ago she joined Skiyente Ski Club, an all-women's ski club that is celebrating its 50th anniversary this year. The club includes members from all over the West who share a love for skiing and the mountains.
Shaub was looking for a way to meet people with similar interests and found the group to be a perfect fit. She developed relationships, found the support she needed while she was going through a divorce and remained active in the sport she loved, she says. This year, Shaub is serving as the club president.
Over the years, Shaub has become an active recreational ski racer, and in 1991 she was the national champion in her division.
"Women are good skiers maybe because their center of gravity is closer to the ground," she laughs.
Over the summer months, Shaub waterskis.
"I just tell everybody it's melted snow," she says.
But when the snow starts to fall, Shaub heads to Mt. Hood Meadows as often as she can.

Howard Hermanson
SKIER
In 1956, Howard Hermanson changed the way people skied, at least on Mt. Hood.
Hermanson brought the revolutionary "French technique" to Oregon after spending time with legendary French Olympic champion and ski coach Emile Allais in Squaw Valley, Calif. Allais is considered the father of parallel skiing.
People stopped doing the snowplow and started practicing the French technique immediately, Hermanson says. Skiing was becoming popular after World War II just as Hermanson and 120 instructors at the Summit Ski Area at Government Camp introduced the new method to Oregon skiers.
The technique brings the skis parallel, as close to touching as possible, while the skier is in a forward-leaning position and the body rotates through turns. Previous techniques focused on the skis forming a wedge or snowplow to maneuver skiers on the slopes.
It was instantly popular and skiers took to it immediately on the gentle slopes of Government Camp, he says.
The ski school at Summit Ski Area, run by the Portland Jaycees, met its goal of reducing accidents with the addition of the French technique and lent the area and its instructors more prestige, Hermanson says.
Though he says he eventually "had to go to work," Hermanson has remained a lifelong skier, and on occasion he has found a way to incorporate his love of skiing into his professional life as a nationally–known interior designer.
Howard Hermanson Interior Design is currently finishing up work on the redesign of the Collins Lake Resort clubhouse in Government Camp, and he has done work for his long-time friend and iconic ski filmmaker, Warren Miller. Both Miller's private ski and golf resort, the Yellowstone Club in Montana, and his home in the San Juan Islands have the mark of Hermanson's design.
Today at 77, Hermanson races in Masters Summer Fun in the Sun Ski Race on the Palmer Snow Field every July and spends time in Sun Valley with friends every winter. But Timberline holds a very special place in his heart.
"Timberline in the summer is the greatest place," Hermanson says. "The sun is shining and you just can't beat it."
Hermanson won the Golden Rose Ski Race, also held on the Palmer Snow Field, in 1954. Inaugurated in 1936, it is one of the longest continuously run races in American history. Herm, as his friends call him, was also a student coach of the University of Portland ski team and competed in the international intercollegiate downhill races.

Sven Swinnen
TENNIS
Sven Swinnen had not visited Oregon before he arrived to start classes and play tennis at the University of Oregon in Eugene. The landscape he saw when he got off the plane was very different from his native Wuerenlingen, Switzerland.
"It was a whole different world," Swinnen says. "It was a new experience but a good one."
Swinnen came to the United States to play tennis for the Ducks in 2001. Though he still practices with the team while he wraps up the last of his classes, Swinnen's collegiate tennis career at Oregon is over and he is looking toward the future with an aim at playing professionally. He was the first Duck to win an International Tennis Association regional tournament and set the school record for highest ranked individual player when he entered the 2004 season ranked No. 9 nationally. His impact on Duck tennis has been compared to Joey Harrington's impact on Duck football. He ended his college career as the all-time leader in career and single-season victories for the Ducks.
Swinnen has been playing tennis since he was eight and even after all the tournaments and practices, it's still fun.
"In college I grew to like it even more," Swinnen says. "Before I was just on the court and I really didn't know what I was doing. But during college I became more aware of my game style and how to play a better game."
Swinnen's game is fast. His favorite courts are indoors – especially the U of O indoor courts – because it is a hard court that fits his game well. Not to mention it keeps him out of the rain. One of his post-graduation plans is to move somewhere sunny.
He got his start in tennis when a friend introduced him to the sport.
"I liked it immediately," he remembers. "We kept going to the court together and it was a lot of fun. I started to make some progress, took some lessons and played in some tournaments for kids."
Swinnen was ranked among the top 40 in Swiss rankings in high school.
He says he became interested in Oregon when a friend related how much he enjoyed playing Duck tennis. He did some research, sent some emails and met some coaches on a recruiting trip to Switzerland and he made up his mind.
"It was a good fit," he says.
He was a two-time All Pac-10 honoree and earned All-American honors in 2004.
Now Swinnen is looking for sponsors and preparing to travel to professional tournaments all over the world.

Lauren Young
TENNIS
Lauren Young didn't decide to take up tennis in his mid-40s. His wife Dena decided for him.
"My wife made the decision to take up tennis and hired one of the boys from the high school tennis team to teach her one summer. I thought it would never happen," Young says. "Then she wanted me to hit some balls with her, and it really made me scramble so I thought I'd better learn."
Since then, the Youngs have built a home with a tennis court in the backyard, helped build the indoor courts in their hometown of Roseburg as well as those at the University of Oregon, and started a tennis endowment to help young tennis players pay for their education. And they play doubles as often as they can.
Picking up the sport later in life did not slow them down.
"It wasn't too hard to learn," Young says. "It's a sport for life and you can play as long as you have reasonably good joints. I know someone who plays and is nearing 80, and he never picked up a racket until he turned 65."
The Youngs channeled their enthusiasm for tennis into a way to help their community as well.
Their donations helped build the indoor tennis courts in Roseburg that Young thinks helped the local high school tennis team win the state championship for six years straight—that is until other areas built indoor courts as well, Young says.
Their endowment, started 15 years ago, awards scholarships to one or two students each year and provides funds for free tennis lessons for 100 kids each year.
"It's good for Roseburg," Young says. "It's a good community project."
Young owns four Lauren Young Tire Centers, the Les Schwab dealers for Douglas County in Southern Oregon.
More of their donations helped build the indoor courts at the University of Oregon in Eugene in 2000.
Inside or outside, Young says it doesn't matter to him.
"We play outside in the summertime in the mornings and evenings and go indoors when the weather gets bad. We usually bring our rackets with us on vacation and have traveled to all the Grand Slams over the years—but we didn't play," he says with a smile.
Four of the Youngs' grandchildren play tennis as well.
"Three of the four made it to state. We're pretty proud of that," he says.